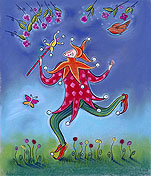 Jewelry
A beautiful selection of Pagan, Celtic, Gothic and Wiccan jewelry. Includes rings, bracelets, pendants, charms, earrings and more.
An amulet, a close cousin of the talisman consists of any object intended to bring good luck and/or protection to its owner. Potential amulets include...

A bracelet is an article of jewelry which is worn around the wrist. Bracelets can be manufactured from leather, cloth, hemp, plastic or metal, and som...

A brooch is a decorative jewelry item designed to be attached to garments. It is usually made of metal, often silver or gold but sometimes bronze or s...

A cross is a geometrical figure consisting of two lines or bars perpendicular to each other, dividing one or two of the lines in half. The lines usual...

Earrings are jewelry attached to the ear through a piercing in the earlobe or some other external part of the ear (except in the case of clip earrings...

A locket is a pendant that opens to reveal a space used for storing a photograph or other small item such as a curl of hair. Lockets are usually given...

A necklace is an article of jewellery which is worn around the neck. Necklaces are frequently formed from a metal jewellery chain, often attached to a...
0 products were found