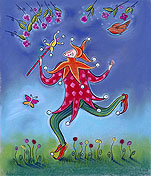 Books
In Western culture, the term alternative medicine refers to any healing practice "that does not fall within the realm of conventional medicine". In pr...

The New Age (also known as the New Age Movement, New Age spirituality, and Cosmic Humanism) is a decentralized Western social and spiritual movement t...

The word occult comes from the Latin word occultus (clandestine, hidden, secret), referring to "knowledge of the hidden". The word has many uses in th...

A religion is an organized approach to human spirituality which usually encompasses a set of narratives, symbols, beliefs and practices, often with a ...

The term self-help (or self-improvement) refers to self-guided improvement—economically, intellectually, or emotionally—often with a substantial p...

Spirituality is matters of the spirit, a concept often (but not necessarily) tied to a spirit world, a multidimensional reality and one or more deitie...
0 products were found