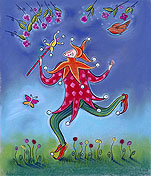 Crystals & Stones

Choosing Crystals for Ritual
Creating sacred space is an ongoing process. The center of an individual's magical life is the altar, which gathers the energy of your intention throughout the seasons and years of your journey in this world.

Crystal Consciousness
Crystals are among the most versatile and widely used of metaphysical accessories. Hardly an altar or staff can be found without a shiny, faceted representative of the Mineral Kingdom.

Divination: Rune Stones and Crystal Balls
Humans have always sought to gain hints of the future by studying the patterns made by objects. From reading at tea leaves and star patterns to crystal scrying and pendulum interpretation, seekers of higher understanding have employed a host of simple techniques to learn the unknown and interpret the messages of spirits.

Healing Stones & Crystals
Crystals and stones are one of the most powerful resources in the toolbox of the alternative healer. Used to align Chakras, unblock passageways, and provide material comfort during therapeutic massage, the use of mineral treatments is one of the hallmarks of New Age healing practices.

Meditation and Mood Crystals
Meditation is the process of aligning the inner self to the vibrations of the ethereal realm. As with any skill, it may be difficult at first to quiet the mind and tune out distractions that keep us from reaching inner peace.
Visit the Crystals & Stones section of our store!