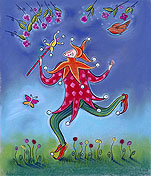 Pagan
A chalice is a goblet or footed cup intended to hold a drink. In general religious terms, it is intended for quaffing during a ceremony. In Wicca a ch...

These are not only useful magic and ritual aids but great collectibles. Whether you want to store your precious gems in a pouch, brew up a batch of yo...

A walking stick is a device used by many people to facilitate balancing whilst walking. It may be used as a defensive or offensive weapon, and may con...
0 products were found