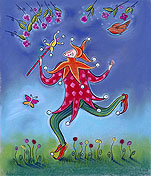 Books Accessories
A bookend is an object that is designed to buttress, or support, an upright row of books. It is placed on either end to prevent books from falling ove...

A bookmark is a thin marker, commonly made of paper or card, used to keep one's place in a book and so be able to return to it with ease. Other freque...

The Book of Shadows is the name used for a book that contains magical and religious texts in the religion of Wicca and certain other neopagan witchcra...
0 products were found