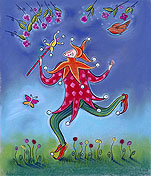 New Age Books
The New Age (also known as the New Age Movement, New Age spirituality, and Cosmic Humanism) is a decentralized Western social and spiritual movement that seeks "Universal Truth" and the attainment of the highest individual human potential. It combines aspects of cosmology, astrology, esotericism, alternative medicine, music, collectivism, sustainability, and nature. New Age spirituality is characterized by an individual approach to spiritual practices and philosophies, while rejecting religious doctrine and dogma.
The New Age Movement includes elements of older spiritual and religious traditions ranging from atheism and monotheism through classical pantheism, naturalistic pantheism, and panentheism to polytheism combined with science and Gaia philosophy: particularly archaeoastronomy, astronomy, ecology, environmentalism, the Gaia hypothesis, psychology, and physics. New Age practices and philosophies sometimes draw inspiration from major world religions: Buddhism, Chinese folk religion, Christianity, Hinduism, Islam, Judaism; with particularly strong influences from East Asian religions, Gnosticism, Neopaganism, New Thought, Spiritualism, Theosophy, Universalism, and Western esotericism. Additional phrases which may refer to the New Age Movement include All is One and Mind-Body-Spirit.
The modern New Age Movement emerged as a distinct lifestyle from the late 1960s through the early 1970s, although elements can be traced back to the 19th and early 20th centuries. It gained momentum in the 1980s and strengthened with the Harmonic Convergence event in 1987. Diverse individuals from around the world practice New Age spirituality. More »
Astrology is a group of systems, traditions, and beliefs which hold that the relative positions of celestial bodies and related details can provide in...

Chakra is a Sanskrit word that translates as wheel or disc or turning. Chakra is a concept referring to wheel-like vortices which, according to tradit...

Mediumship is the term used to describe a form of communication with spirits. It is a practice in religious beliefs such as Spiritualism, Spiritism, E...

Divination is the attempt to gain insight into a question or situation by way of a standardized process or ritual. Diviners ascertain their interpreta...

Dreams are a series of images, ideas, emotions, and sensations occurring involuntarily in the mind during certain stages of sleep. The content and pur...

A goddess is a female deity. Often deities are part of a polytheistic system that includes several deities in a pantheon. In some cultures goddesses a...

Meditation is a mental discipline by which one attempts to get beyond the reflexive, "thinking" mind into a deeper state of relaxation or awareness. M...

Faith healing is a concept that religious belief ("faith") can bring about healing—either through prayers or rituals that, according to adherents, e...

Mysticism is the pursuit of communion with, identity with, or conscious awareness of an ultimate reality, divinity, spiritual truth, or God through di...

The New Thought Movement or New Thought is a spiritual movement which developed in the United States during the late 19th century and emphasizes metap...

Reincarnation, literally "to be made flesh again", is a doctrine or metaphysical belief that some essential part of a living being (in some variations...

The term self-help (or self-improvement) refers to self-guided improvement—economically, intellectually, or emotionally—often with a substantial p...

Theosophy is a doctrine of religious philosophy and metaphysics originating with Helena Petrovna Blavatsky (1831–91). In this context, theosophy hol...

The Urantia Book (sometimes called The Urantia Papers or The Fifth Epochal Revelation) is a spiritual and philosophical book that discusses God, Jesus...
0 products were found