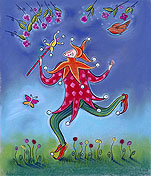 Books about Religions
A religion is an organized approach to human spirituality which usually encompasses a set of narratives, symbols, beliefs and practices, often with a supernatural or transcendent quality, that give meaning to the practitioner's experiences of life through reference to a higher power, God or gods, or ultimate truth. It may be expressed through prayer, ritual, meditation, music and art, among other things. It may focus on specific supernatural, metaphysical, and moral claims about reality (the cosmos and human nature) which may yield a set of religious laws, ethics, and a particular lifestyle. Religion also encompasses ancestral or cultural traditions, writings, history, and mythology, as well as personal faith and religious experience. More »
The New Testament is the name given to the second major division of the Christian Bible, the first such division being the much longer Old Testament. ...

Buddhism is a family of beliefs and practices variously described as religious, spiritual and philosophical. These are all based on the teachings of S...

Christianity (from the Greek word "Christ", anointed one) is a monotheistic religion centered on the life and teachings of Jesus as presented in the N...

Hinduism is the predominant religion of the Indian subcontinent. Hinduism is often referred to as Sanātana Dharma, a Sanskrit phrase meaning "the ete...

Judaism is a set of beliefs and practices originating in the Hebrew Bible (Tanakh), as later further explored and explained in the Talmud and other te...

Sacred art is imagery intended to uplift the mind to the spiritual. It can be an object to be venerated not for what it is but for what it represents;...

Religious studies, or Religious education, is the academic field of multi-disciplinary, secular study of religious beliefs, behaviors, and institution...
0 products were found