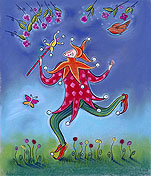 Books about Goddesses
A goddess is a female deity. Often deities are part of a polytheistic system that includes several deities in a pantheon. In some cultures goddesses are commonly associated with the Earth, motherhood, love, and the household, often reflecting the historical gender roles of that culture. In other cultures, goddesses may also be associated with functions such as war, death, and destruction as well as healing.
The primacy of a monotheistic or near-monotheistic "Great Goddess" is advocated by some modern matriarchists as a female version of, preceding, or analogue to, the Abrahamic God associated with the historical rise of monotheism in the Mediterranean Axis Age.
Some currents of Neopaganism, in particular Wicca, have a ditheistic concept of a single goddess and a single god, who in hierosgamos represent a united whole. Polytheistic reconstructionists focus on reconstructing polytheistic religions, including the various goddesses and figures associated with indigenous cultures. More »