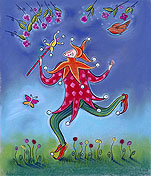 Books about Alternative Medicine
In Western culture, the term alternative medicine refers to any healing practice "that does not fall within the realm of conventional medicine". In practice, alternative medicine encompasses therapies with a historical or cultural, rather than a scientific, basis. Commonly cited examples include naturopathy, chiropractic, herbalism, traditional Chinese medicine, Unani, Ayurveda, meditation, yoga, biofeedback, hypnosis, homeopathy, acupuncture, and diet-based therapies, in addition to a range of other practices. More »
Acupuncture is a technique of inserting and manipulating fine filiform needles into specific points on the body to relieve pain or for therapeutic pur...

Aromatherapy is a form of alternative medicine that uses volatile plant materials, known as essential oils, and similar aromatic compounds from plants...

Ayurveda is a system of traditional medicine native to India, and practiced in other parts of the world as a form of alternative medicine. In Sanskrit...

Traditional Chinese Medicine includes a range of traditional medical practices originating in China. Although well accepted in the mainstream of medic...

Chiropractic is a health care discipline and profession that emphasizes diagnosis, treatment and prevention of mechanical disorders of the musculoskel...

Energy medicine is one of five domains of "complementary and alternative medicine" (CAM) identified by the National Center for Complementary and A...

Herbalism is a traditional medicinal or folk medicine practice based on the use of plants and plant extracts. Herbalism is also known as botanical med...

Holistic health is a philosophy of medical care that views physical and mental and spiritual aspects of life as closely interconnected and equally imp...

Homeopathy (also spelled Homoeopathy or Homœopathy) is a form of alternative medicine, first proposed by German physician Samuel Hahnemann in 1796, t...

Massage is the practice of soft tissue manipulation with physical (anatomical), functional (physiological), and in some cases psychological purposes a...

Meditation is a mental discipline by which one attempts to get beyond the reflexive, "thinking" mind into a deeper state of relaxation or awareness. M...

Naturopathy (also known as naturopathic medicine or natural medicine) is an eclectic alternative medical system that focuses on natural remedies and t...

Osteopathy is an approach to healthcare that emphasizes the role of the musculoskeletal system in health and disease. It is practised in the United Ki...

A dietary supplement, also known as food supplement or nutritional supplement, is a preparation intended to provide nutrients, such as vitamins, miner...

A vitamin is an organic compound required as a nutrient in tiny amounts by an organism. A compound is called a vitamin when it cannot be synthesized i...
0 products were found