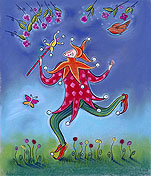 Books about the Occult
The word occult comes from the Latin word occultus (clandestine, hidden, secret), referring to "knowledge of the hidden". The word has many uses in the English language, popularly meaning "knowledge of the paranormal", as opposed to "knowledge of the measurable", usually referred to as science. The term is sometimes popularly taken to mean "knowledge meant only for certain people" or "knowledge that must be kept hidden", but for most practicing occultists it is simply the study of a deeper spiritual reality that extends beyond pure reason and the physical sciences. The terms esoteric and arcane can have a very similar meaning, and the three terms are often interchangeable.
The term occult is also used as a label given to a number of magical organizations or orders, and the teachings and practices as taught by them. The name also extends to a large body of literature and spiritual philosophy. More »
Alchemy is both a philosophy and a practice with an aim of achieving ultimate wisdom as well as immortality, involving the improvement of the alchemis...

Astral projection (or astral travel, AP for short) refers to episodes of out-of-body experiences considered to involve an astral counterpart that sepa...

Astrology is a group of systems, traditions, and beliefs which hold that the relative positions of celestial bodies and related details can provide in...

In parapsychology and many forms of spiritual practice, an aura is a field of subtle, luminous radiation supposedly surrounding a person or object (li...

A Cult is a group that share a common religious practice. The word originally referred to any such religious community, but though the twentieth centu...

Extrasensory perception (ESP) involves reception of information not gained through the recognized senses and not inferred from previous experience. Th...

A ghost has been defined as the disembodied spirit or soul of a deceased person, although in popular usage the term refers only to the apparition of s...

Magic, sometimes known as sorcery, is the practice of consciousness manipulation and/or autosuggestion to achieve a desired result, usually by empiric...

Metaphysics investigates principles of reality transcending those of any particular science. Cosmology and ontology are traditional branches of metaph...

A near-death experience (NDE), refers to a broad range of personal experiences associated with impending death, encompassing multiple possible sensati...

The word occult comes from the Latin word occultus (clandestine, hidden, secret), referring to "knowledge of the hidden". The word has many uses in th...

Parapsychology is a controversial discipline that seeks to investigate the existence and causes of psychic abilities and life after death using the sc...

Rosicrucianism (symbol: the Rose Cross) is the theology of a secret society of mystics, allegedly formed in late medieval Germany, holding a doctrine ...

Satanism is a term that refers to a number of related beliefs and social phenomena. Their commonality is that they all feature the veneration or admir...

Spiritualism is a monotheistic belief system or religion, postulating a belief in God, but the distinguishing feature is belief that spirits of the de...

The term supernatural or supranatural (Latin: super, supra "above" + natura "nature") pertains to an order of existence beyond the scientifically visi...

An Unidentified Flying Object (commonly abbreviated as UFO or U.F.O.) is the popular term for any aerial phenomenon whose cause cannot be easily or im...
0 products were found