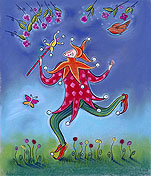 Books about Spirituality
Spirituality is matters of the spirit, a concept often (but not necessarily) tied to a spirit world, a multidimensional reality and one or more deities. Spiritual matters regard humankind's ultimate nature and purpose, not as material biological organisms, but as spirits or energy with an eternal relationship beyond the bodily senses, time and the material world.
The spiritual is contrasted with the physical and the temporary. A sense of connection is central of spirituality — connection to a reality beyond than the physical world and oneself, which may include an emotional experience of awe and reverence. Spirituality may also include the development of the individual's inner life through practices such as meditation and prayer, including the search for God, the supernatural, a divine influence, or information about the afterlife. Spirituality is the personal, subjective aspect of religion, mysticism, magic and occult.
While the words religion and spirituality are often used interchangeably, an important distinction exists between spirituality in religion and spirituality outside religion. In recent years, spirituality outside of religion often carries connotations of a believer having a faith more personalized, less structured, more open to new ideas and myriad influences, and more pluralistic than the doctrinal faiths of mature religions. More »
Agnosticism is the philosophical view that the truth value of certain claims — particularly metaphysical claims regarding theology, afterlife or the...

Angels are usually viewed as messengers of a supreme divine being, sent to do the tasks of that being. Traditions vary as to whether angels have free ...

Atheism can be either the rejection of theism, or the position that deities do not exist. In the broadest sense, it is the absence of belief in the ex...

A Course in Miracles (also referred to as ACIM or the Course) written by Dr. Helen Schucman with the help of Dr. William Thetford is a book that descr...

Feminism is a political discourse aimed at equal rights and legal protection for women. It involves various movements, theories, and philosophies, all...

Prayer is the act of addressing a god or spirit for the purpose of worship or petition. Specific forms of this may include praise, requesting guidance...
0 products were found