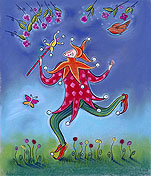 Books about Earth-Based Religions
Celtic polytheism, sometimes known as Celtic paganism, refers to the religious beliefs and practises of the ancient Celtic peoples of western Europe p...

A druid was a member of the priestly and learned class active in Gaul, and perhaps in Celtic culture more generally, during the final centuries BCE. T...

Gaia philosophy (named after Gaia, Greek goddess of the Earth) is a broadly inclusive term for related concepts that living organisms on a planet will...

Paganism (from Latin paganus, meaning "country dweller", "rustic") is a blanket term used to refer to various polytheistic religions. The group so def...

Shamanism comprises a range of traditional beliefs and practices concerned with communication with the spirit world. A practitioner of shamanism is kn...

Shinto or kami-no-michi is the natural spirituality of Japan and the Japanese people. The word Shinto ("Way of the Gods") was adopted from the written...

Wicca is a neopagan, nature-based religion. It was popularised in 1954 by Gerald Gardner, a retired British civil servant, who at the time called it a...

Witchcraft, in various historical, anthropological, religious and mythological contexts, is the use of certain kinds of supernatural or magical powers...
0 products were found